Are you based in Doncaster? We have the IT support for you...
Looking for an IT Support and Service provider local to Doncaster? Then look no further. Originally based in Tickhill; Cynetix have now been supporting businesses local to Doncaster for over 25 years.
Our in-house team of IT Support Engineers have a broad range of expertise and knowledge. Not only are we computer geeks, we also specialise in CCTV, Door Entry Systems and Telephone Systems.
If you would like a free, no obligation consultation or even just a little more information about us, then please contact us today and one of our friendly team members will be more than happy to help.
Why Outsource Your IT Support?
There are many different reasons why your business may benefit from outsourcing your IT support. Some of which will be unique to your business whilst others are more common, such as:
Reduce staff costs

Free up time to focus on your business

Access to a large skill base

No need to worry about cover for annual leave or illness

Access to the latest technologies

Control ongoing costs and predict IT expenditure

Minimise risk

Increased productivity - problems sorted quickly thanks to our SupportNow tool

Increased efficiency offering variable capacity

Flexibility with support arrangements

Regular customer service reviews

Lower ongoing investment in internal infrastructure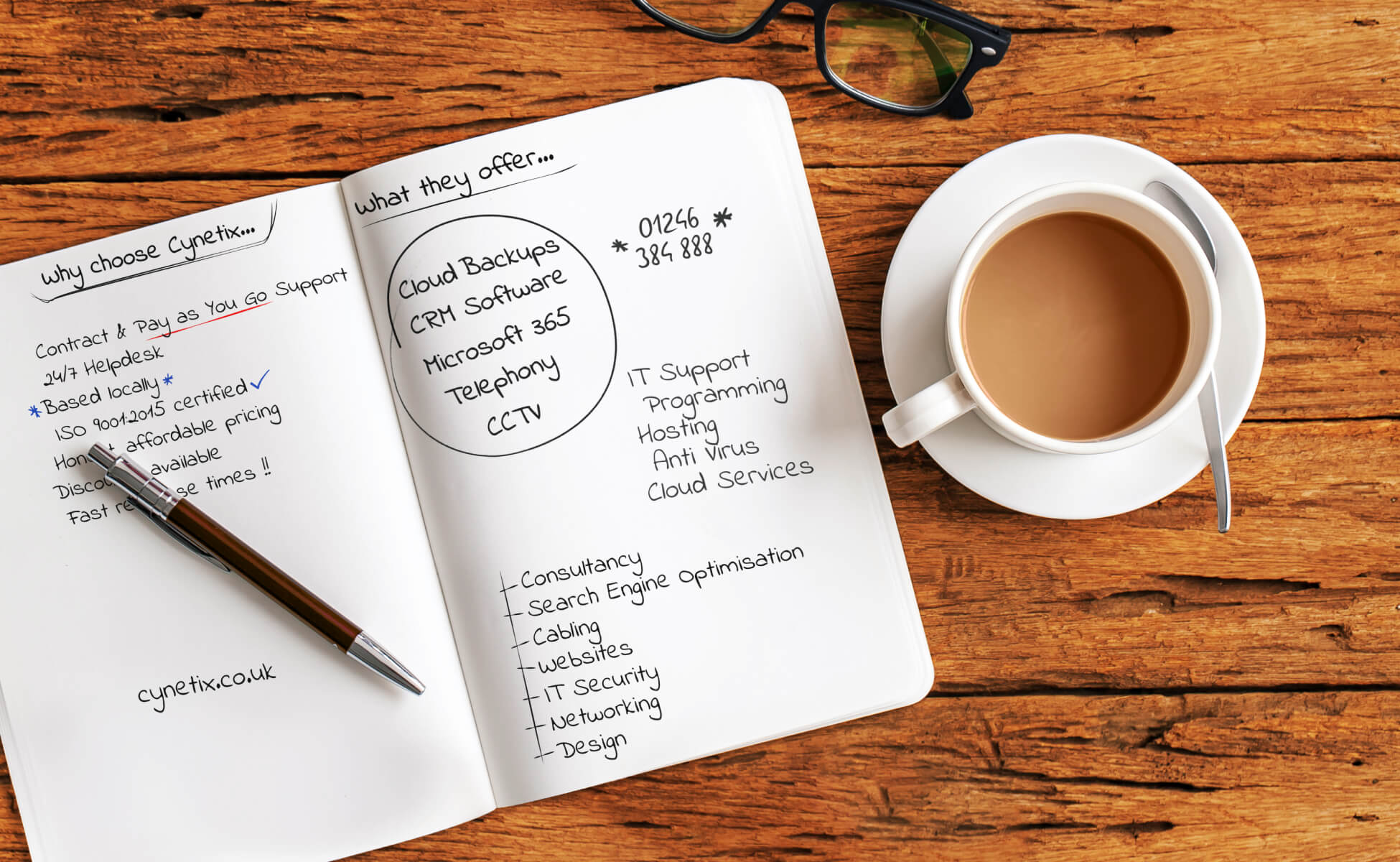 Who Are We?
We are a local company, based in Barlborough, just off M1 junction 30. Established in 1994 we have more than 25 years of experience supplying IT services and products to customers throughout the UK and in over 40 countries. Our qualified team of engineers are here to provide the highest level of support and service whenever and wherever you need it.
What People Say
"I've dealt with Cynetix for many years now, they've been super reliable, really easy to deal with and the service they provide is second to none. I use them for just about everything they do and would highly recommend them."
Nick, S3i Group
"They have supplied and customised our CRM system, making adjustments as and when we require, always happy to help & nothing is too much trouble. We would highly recommend Cynetix."
Bluebird Fine Art

Doncaster
Being just off junction 30 of the M1 puts Cynetix within 30 minutes' drive of the centre of Doncaster.
That's if you even need us onsite, because most of our support is done remotely and apart from certain circumstances, we never have to attend your premises. The majority of time we can provide you remote assistance via our SupportNow application, or via telephone. But if you need us, you know we aren't that far away.
Feel free to look at our upfront, and reasonable, Pay as You Go support pricing. But if you have some specific requirements, or just want to discuss what we can offer you, drop us a line on 01246 384 888.
More About Doncaster
What's better than reading some interesting facts about Doncaster? Padding out a page for SEO you say? No, no, it's interesting facts I tell you!
General Facts
Population
302,402 (Borough - 2011 Census)
Post Town and Code
Doncaster / DN1 - DN12
Shire
South Yorkshire
Region
Yorkshire and the Humber
How Old?
Established around a Roman fort, circa 1st century
Famous Landmark(s)?
Doncaster Racecourse / Yorkshire Wildlife Park / Conisbrough Castle
Famous Sons & Daughters?
Diana Rigg / Jeremy Clarkson / Brian Blessed / Douglas Bader
Mean Age
40 (Borough - 2011 Census)
Female / Male Split
51% / 49% (Borough - 2011 Census)
Number of Jedi
639 (Borough - 2011 Census)
Average House Price
£150,650
Internet Facts
Exchange(s)
Doncaster (SLDC) / Doncaster North (SLDCN)
SLDC Serves approximately 19,527 residential premises & 1,728 non-residential premises
SLDCN Serves approximately 9,007 residential premises & 241 non-residential premises
Available Broadband
ADSL (inc. Max)
SDSL (SLDC only)
Fibre To The Cabinet (FTTC)
Fibre To The Propery (FTTP)
Cable
Local Loop Unbundling Operators
Edge Telecom (SLDC only)
Origin Broadband
Sky
Talk Talk (Car Phone Warehouse)
Vodafone (SLDC only)
Zen Internet (SLDC only)
Average Download Speed
Standard: 13Mbps / Superfast: 80 Mbps / Ultrafast: 350 Mbps (for DN1 2HJ

- Ultrafast only available to certain premises

)
Average Upload Speed
Standard: 1 Mbps / Superfast: 20 Mbps / Ultrafast: 20 Mbps (for DN1 2HJ

- Ultrafast only available to certain premises

)
All facts correct* at the time of writing.
*Facts taken from the internet...you may wish to take with a pinch of salt
Check your
broadband availability
and
mobile coverage
on the Ofcom website