Are you based in Nottinghamshire? We have the IT support for you...
Our IT Support helpdesk Nottinghamshire is committed to providing the upmost service for all of your IT needs. If you are suffering from IT problems such as being unable to connect to your printer, adding new user accounts, your computer not running at its usual speed or even your computer not switching on at all, then Cynetix IT Services can help.
We are a fast, friendly, dependable IT support provider based on the outskirts of Nottinghamshire. To find out what we can do for you, contact us today.
Why Outsource Your IT Support?
There are many different reasons why your business may benefit from outsourcing your IT support. Some of which will be unique to your business whilst others are more common, such as:
Reduce staff costs

Free up time to focus on your business

Access to a large skill base

No need to worry about cover for annual leave or illness

Access to the latest technologies

Control ongoing costs and predict IT expenditure

Minimise risk

Increased productivity - problems sorted quickly thanks to our SupportNow tool

Increased efficiency offering variable capacity

Flexibility with support arrangements

Regular customer service reviews

Lower ongoing investment in internal infrastructure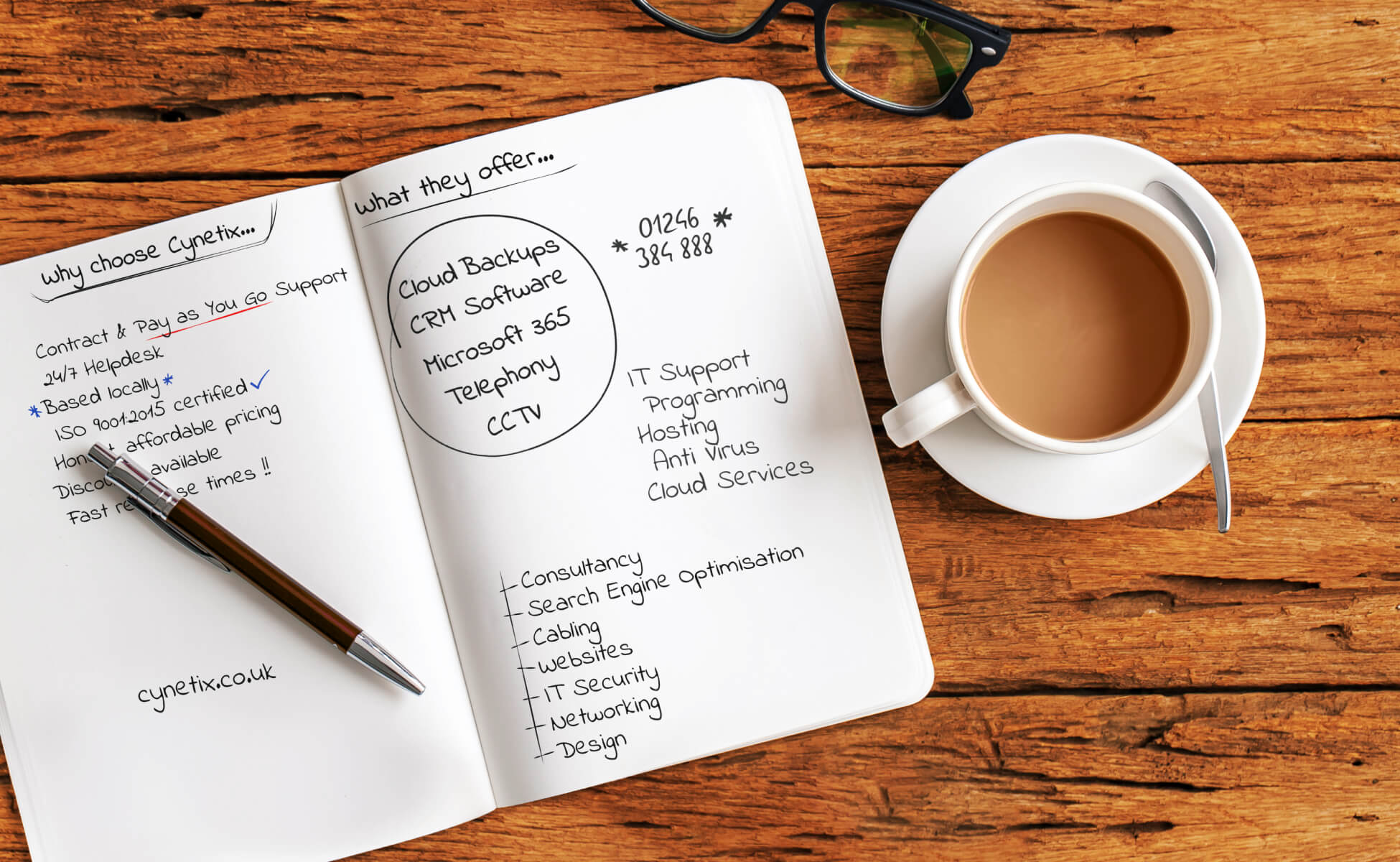 Who Are We?
We are a local company, based in Barlborough, just off M1 junction 30. Established in 1994 we have more than 25 years of experience supplying IT services and products to customers throughout the UK and in over 40 countries. Our qualified team of engineers are here to provide the highest level of support and service whenever and wherever you need it.
What People Say
"I've dealt with Cynetix for many years now, they've been super reliable, really easy to deal with and the service they provide is second to none. I use them for just about everything they do and would highly recommend them."
Nick, S3i Group
"They have supplied and customised our CRM system, making adjustments as and when we require, always happy to help & nothing is too much trouble. We would highly recommend Cynetix."
Bluebird Fine Art

Nottinghamshire
Cynetix is just over the border of Nottinghamshire, so we can be most places pretty quickly. A lot of the Cynetix staff come from Nottinghamshire, so there will be no worries about us liking the wrong kind of tea.
Distance isn't really a problem though, most of the support queries we deal with are done remotely. The first line of support is usually via our helpdesk, once an engineer has seen your ticket, they will decide what needs to be done to investigate the problem. We have our own support tool called SupportNow, which enables us to connect directly into your device, be it a server or a mobile phone.
To discuss our support contracts, or any other way we can help you, please call us on 01246 384 888.
More About Nottinghamshire
What's better than reading some interesting facts about Nottinghamshire? Padding out a page for SEO you say? No, no, it's interesting facts I tell you!
General Facts
Population
A 2017 estimate total of 1,053,316 people
Area
830 square miles
Region
East Midlands
ISO 3166-2
GB-NTT
Office of National Statistics Code
37
Government Statistical Service Code
E10000024
Districts
Rushcliffe
Broxtowe
Ashfield
Gedling
Newark and Sherwood
Mansfield
Bassetlaw
City of Nottingham
How Old?
Historic
Famous Landmark(s)?
Sherwood Forest / Clumber Park / Rufford Abbey
Famous Sons & Daughters?
Rebecca Adlington / Lennie James / Jayne Torvill and Christopher Dean
Mean Age
39 (2011 Census)
Female / Male Split
49% / 51% (2011 Census)
Number of Jedi
3,374 (2011 Census)
Average House Price
£198,581
All facts correct* at the time of writing.
*Facts taken from the internet...you may wish to take with a pinch of salt
Check your
broadband availability
and
mobile coverage
on the Ofcom website