Are you based in Rotherham? We have the IT support for you...
Have you been the victim of a cyber attack or know someone that has? Cynetix IT Services can help prevent and protect you and your business from vicious virus and malware attacks. Our proactive IT Support team identify and resolve potential issues before they before they become a problem that can affect business.
If you would like more information on pro-active IT Support in Rotherham or would like to learn about the other IT Services that we can offer then please contact us today.
Why Outsource Your IT Support?
There are many different reasons why your business may benefit from outsourcing your IT support. Some of which will be unique to your business whilst others are more common, such as:
Reduce staff costs

Free up time to focus on your business

Access to a large skill base

No need to worry about cover for annual leave or illness

Access to the latest technologies

Control ongoing costs and predict IT expenditure

Minimise risk

Increased productivity - problems sorted quickly thanks to our SupportNow tool

Increased efficiency offering variable capacity

Flexibility with support arrangements

Regular customer service reviews

Lower ongoing investment in internal infrastructure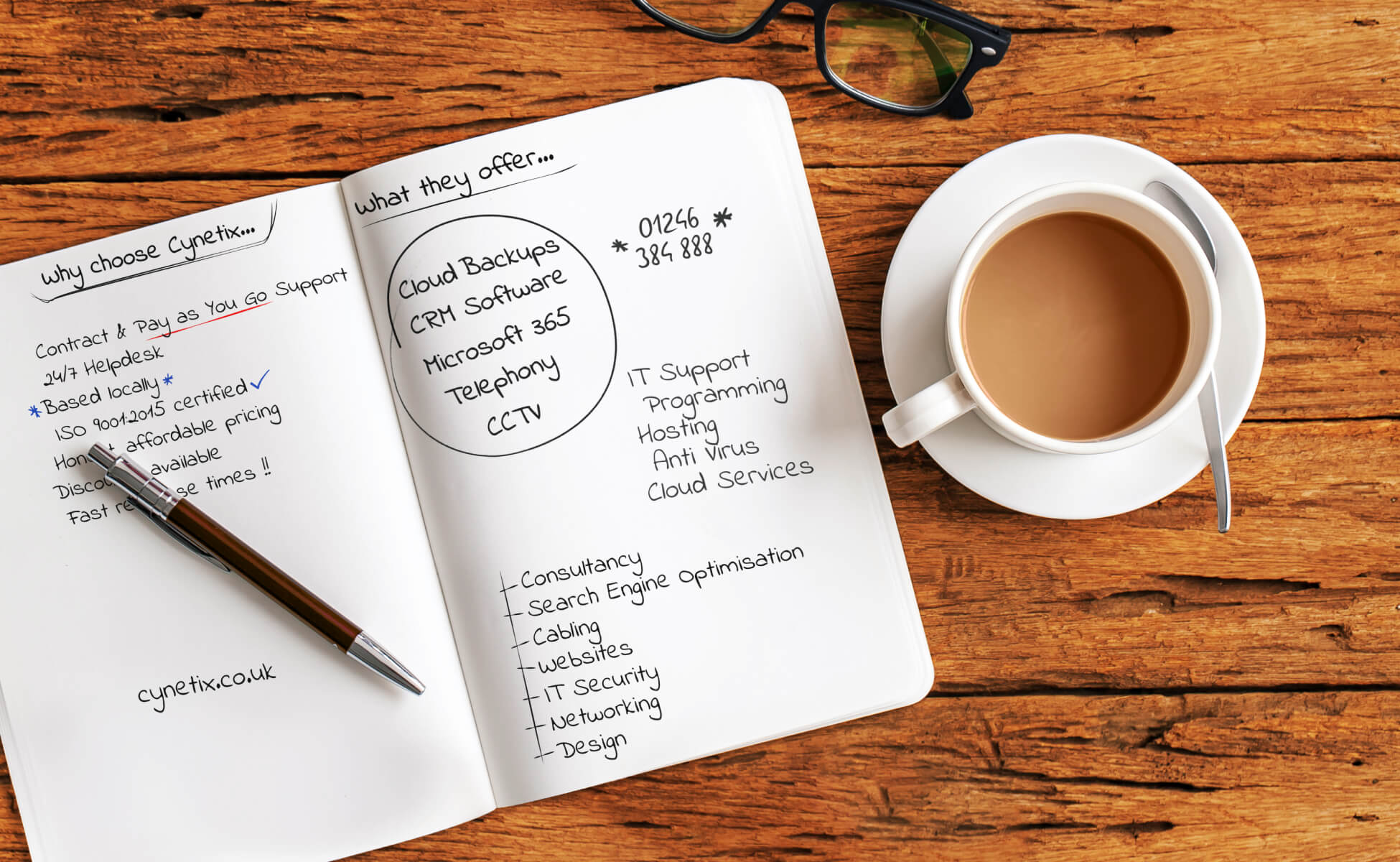 Who Are We?
We are a local company, based in Barlborough, just off M1 junction 30. Established in 1994 we have more than 25 years of experience supplying IT services and products to customers throughout the UK and in over 40 countries. Our qualified team of engineers are here to provide the highest level of support and service whenever and wherever you need it.
What People Say
"I've dealt with Cynetix for many years now, they've been super reliable, really easy to deal with and the service they provide is second to none. I use them for just about everything they do and would highly recommend them."
Nick, S3i Group
"They have supplied and customised our CRM system, making adjustments as and when we require, always happy to help & nothing is too much trouble. We would highly recommend Cynetix."
Bluebird Fine Art

Rotherham
Between 2002 and 2015 Cynetix operated out of officers in Maltby, Rotherham. It was during our time in Rotherham that Cynetix expanded it service portfolio to include software programming, design and eventually website design and development.
We also expanded our IT Support and IT Services departments by more than quadrupling the engineering and support staff.
During this period Cynetix began supporting firms around the Rotherham area, ranging from small family owned enterprises, all the way up to national companies, with officers all over the country.
More About Rotherham
What's better than reading some interesting facts about Rotherham? Padding out a page for SEO you say? No, no, it's interesting facts I tell you!
General Facts
Population
257,280 (Borough - 2011 Census)
Post Town and Code
Rotherham / S60-S63, S65, S66
Shire
South Yorkshire
Region
Yorkshire and the Humber
How Old?
Middle Ages
Famous Landmark(s)?
Rotherham Minster / Boston Castle
Famous Sons & Daughters?
Liz White / David Seaman / William Hague / Chuckle Brothers
Mean Age
41 (Borough - 2011 Census)
Female / Male Split
51% / 49% (Borough - 2011 Census)
Number of Jedi
552 (Borough - 2011 Census)
Average House Price
£151,496
Internet Facts
Exchange(s)
Rotherham (SLHR) / Rotherham North (SLRHN)
SLHR Serves approximately 20,443 residential premises & 1,679 non-residential premises
SLHRN Serves approximately 14,213 residential premises & 451 non-residential premises
Available Broadband
ADSL (inc. Max)
SDSL (SLRH only)
Fibre To The Cabinet (FTTC)
Cable
Local Loop Unbundling Operators
Origin Broadband
Sky
Talk Talk (Car Phone Warehouse)
Average Download Speed
Standard: 15Mbps / Superfast: 80 Mbps (for S60 1EX

- Superfast only available to certain premises

)
Average Upload Speed
Standard: 1Mbps / Superfast: 20Mbps (for S60 1EX

- Superfast only available to certain premises

)
All facts correct* at the time of writing.
*Facts taken from the internet...you may wish to take with a pinch of salt
Check your
broadband availability
and
mobile coverage
on the Ofcom website