Contacts

Sales

Products

Service

Leads

Opportunities

Activities

Projects

Financial

Marketing

Reports
Introducing Salsys CRM - The Cynetix CRM solution
Salsys is Cynetix's CRM system, below we will detail what a CRM is, how it can help you gain, retain and develop customer, as well as how it can help you spot business trends to increase growth and earning potential.
What is a CRM?
Customer Relationship Management is a method whereby an organisation can track and manage relationships with current and potential customers. A good CRM system helps companies stay in touch with their clients, increase workflow and improve profitability.
What can CRM systems like Salsys do?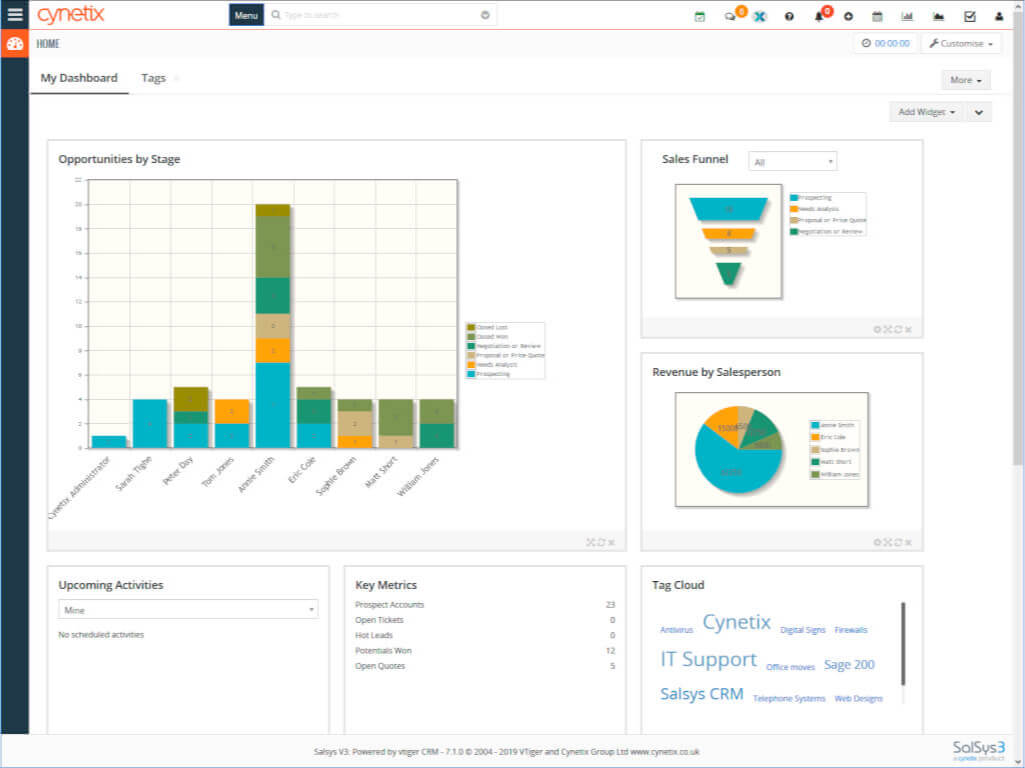 A CRM system's usefulness is won or lost on the quality of the data it contains and how you react to what the data is telling you. As you use a CRM, data is built up and refined and when opportunities arise from the results - they are enacted upon.
With any CRM you need the ability to record customer communication information such as phone calls, emails, meetings and social media. This information is built up over time to give you a better understanding of your clients, suppliers and your own processes. This enables you to build stronger relationships and provide faster and more streamlined, targeted sales and service.
When all these things are done the true power of a CRM can be realised, clients are updated regularly, products are added and monitored, quotes, invoices and purchase orders are generated, marketing plans are implemented, projects are developed and service contracts are planned and executed. All of this is then organised and shown to each CRM user on a unique individual dashboard where they can monitor statistics, view reports and see exactly how customer relationships are developing and what can be improved.

Why a Cynetix CRM?
Although Salsys is based on open source software it is customised by our in-house designers and developers for each organisation's specific requirements to make sure they can get the most out of the system.
In addition, Cynetix also provide ongoing support and customisation as your company and CRM needs grow.
How does Salsys improve over other CRMs?
Enhanced contact management putting information at your fingertips
Assists with collaborating with colleagues through tasks and other tools
Increases productivity through efficiency
Empowers management with data insights
Accurate sales forecasting
Custom reporting
Improved sales metrics
Increase customer satisfaction and retention through data processing
Gather feedback from marketing strategies
All tools used together help increase ROI over time
How the Salsys CRM software helps with customer retention
Customer retention is vital to the ongoing success of any company. Salsys enables you to manage relationships effectively, generate additional revenue and maintain information stored in each customer's record.
Customers want to feel special, be treated as an individual and most importantly to feel good about their experience with your company. They don't want untailored sales promotions flying into their inbox or through their front door.
You could, of course, spend time manually tailoring everything to specific clients but wouldn't it be great if there was a way to give that impression, but without spending all the time doing it?
Cynetix can create workflows in Salsys which are designed to automate these tasks.
There are two main types of workflows – Scheduled which run at set times and triggered which run on events. Each can be extensively customised to your specific needs.
As an example, a scheduled workflow could be set to run every week and send an email to customers who purchase high value items but a different email to customers who purchase low value items.
A triggered workflow might run when a certain type of product is sold. The purchaser might receive an email requesting feedback or a special related promotion.
In both cases many more conditions can be added to the same workflow at any time.
Salsys helps you improve your communication and understanding of your clients to a level where you can deliver exceptional customer service and support and often without additional work.
Without a CRM system
A customer purchases a product or service and provides their name and email address as part of the process.
Without a CRM system this information is usually treated as just details on the purchaser and stored in the accounts system. Perhaps every so often the information is used to send the customer a marketing email promoting your latest product or service.
This bare minimum approach to business and customer relationships is not likely to produce much more than a small amount of repeat business, or at worse it may annoy the client to the point of withdrawing their custom.
With the Salsys solution
A new customer purchases a product or service, you enter the customer details into the Salsys CRM system at the time of purchase
Emails can automatically be generated and sent with surveys, feedback and promotions
Based on the feedback/survey etc. Salsys can then alert the appropriate people
They can then take steps to rectify any problems highlighted or provide feedback where something is working well
Specific tailored information can be recorded, such as if the client only prefers a certain type of product, and then a workflow can automatically email the customer or alert the sales person when that product becomes available
Activities can be setup to alert the sales person when they should be looking to contact a client and what happened last time. Again, this can be automated and scheduled to happen at certain times, perhaps to send out special Christmas offers
If a customer has not been in touch for a while Salsys can automatically provide you a report about your latest contacts with that customer
With the constant feedback and automation, you will never forget to do anything for a client again, and therefore are much more likely to retain their custom.
CRM systems are known to improve customer retention by as much as 27%. This is especially important when you consider the Gartner Group statistic that '80% of your company's future revenue will come from 20% of your existing clients'. Ensuring you have the correct CRM for your business needs is vital to maintaining your client base and therefore vital to generating revenue.
What are the risks of NOT having a CRM like Salsys?
Without a proper method to track clients and conversations, phone calls and meetings it is all too easy to forget or misplace vital pieces of information.
Additionally without historical data to refer to time can be wasted going over the same ground, with the same suppliers or dealing the with the same customer requests.
A good example would be around staff holding information using their own systems and only storing the data they deem appropriate.
Salsys CRM allows you to ask the sales person for the information you want to gather and store it in a secure location for future use. With Salsys your sales team won't have to go routing through desk drawers or risk forgetting a vital piece of information. Instead all the data is stored ready for retrieval in a matter of seconds and backed up for disaster recovery.
Which type of companies benefit from using a CRM like Salsys?
Almost all types of companies could, or do, use some form of CRM. Salsys is very cost effective for small and medium business that don't require all the additional features that larger companies need.
Small or Home Businesses – If you are a new start up or you have never considered a CRM, this is the best time to start. Growing your business will be faster and smoother using a custom CRM like Salsys and as you are with it from the beginning it only gets better and better as your company grows.
Mid-sized Companies – The automation and workflow features of Salsys allow for increased time savings for middle management and sales executives alike. Many of your company's existing procedures can be streamlined, automated and scheduled to save time and money as you push to grow even bigger.
Large Companies – Most large companies likely have a CRM system in place already, however, these usually have quite expensive monthly commitments that may not be worth the extra outlay. With Salsys we hope to offer a viable alternative, giving you as much power and support as you need but with substantial savings compared to other CRM providers.
Salsys CRM Options and Customisation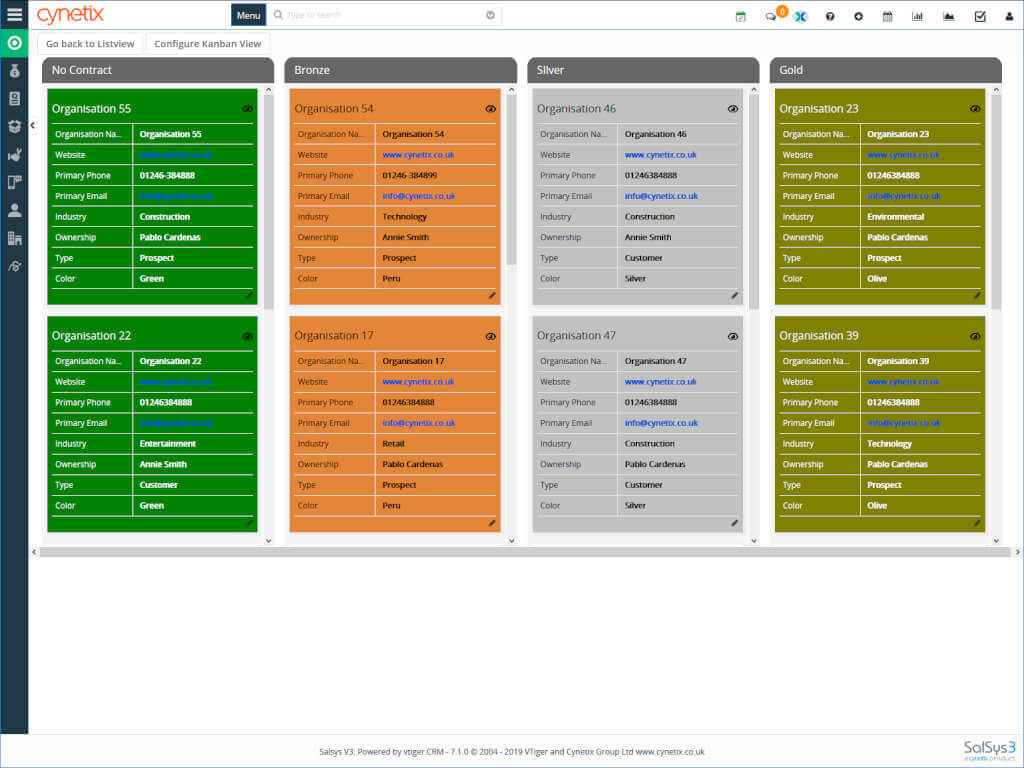 Cynetix offers two different versions of Salsys.
Salsys Cloud is our standard hosted CRM service. We provide access to the system in the cloud through your internet connection. This version of Salsys is provided on a monthly, per user, subscription basis.
The second version is called Salsys 3 and is installed locally for your organisation on your own servers.
Both versions come with our full support service. Both versions can be customised to suit each business needs from a simple single user sales system, which is used to keep track of products and leads, to a full blown 1000 user system with additional bespoke features.
Almost all companies' requirements change over time as you develop new ideas, new products and plans for the future. This is where Salsys can really shine as our design and development team can work with you to keep adapting Salsys to your business needs.
Which type of Salsys CRM should I choose?
Choosing the right type of deployment will come down to your unique requirements as a business and we are happy to offer advice, generally speaking unless you require a lot of customisation and have many users, the cloud based service will be more than sufficient for your CRM needs.
Salsys Cloud – A subscription-based service providing access to a cloud based bespoke CRM system which is tailored to your company's requirements. Prices vary depending on users and features needed.

Salsys Local – Bespoke custom installation at your premises or in your data centre, one time cost to setup and configure with ongoing maintenance support. This can be a cost effective solution for larger companies.
What are the differences in packages?
We have developed a number of options that we feel will allow our clients to choose the most suitable package for them. This ensures you don't pay for unneeded services and allows for upgrading in the future should your business needs change.
Salsys Local - The On Premises Salsys CRM
Why on-premises?
For some business it may be beneficial to choose a in house CRM solution, the reasons for this usually boil down to a few basic questions like:
Do you need to keep your data specifically in the UK?
Are you happy with sensitive data including legal and financial being sent to a 3rd party?
Would you prefer a lower total cost of ownership over the long term?
Other reasons you may choose to go for a local on premises version of Salsys are things like:
Not affected by external connectivity issues
Able to utilise in house IT resources to help manage the CRM
Stay in control of costs should the cost of a license increase
Ability to choose upgrade schedule where applicable
Retain ownership of all customer data
Make use of existing IT infrastructure
For most organisations the Cloud version is the easiest and quickest way to propel your companies sales and marketing without the need for a larger initial investment of capital.
If you are unsure or have any questions please contact us here and speak to one of our sales advisors who can help make the right decision.
What exactly do I need in order to run my own Salsys installation on premises?
Linux Server: Ubuntu 16+, PHP 7.2, MySQL 5.7+
4GB RAM, 20GB HDD (min)
Get in touch with us for more information and pricing.
Any Device / Any Where - Salsys Cloud
In addition to the items included above you can also choose from a selection of additional options below. We have grouped them into tailored packages (plans) designed for different size businesses. We have tried to include items in each plan that compliment each other and provide the level of service you need from Salsys without having to pay for things you won't use.
However, if you find something you would like in another plan let us know as we may be able to create you a customised package.
Standard
no minimum users
Compare Plans
Enquire
Professional
minimum 2 users
Compare Plans
Enquire
our most popular package
Business
minimum 5 users
Compare Plans
Enquire
minimum 5 users
Compare Plans
Enquire
Salsys Cloud - Compare The Plans
Standard

Professional

Business

our most popular package

Opportunities
Contacts
Leads
Organisations
Calendar
Documents
Products
Vendors
Quote
Invoice
Invoice templates
0
1
10
10
Sales order templates
1
10
10
Purchase order templates
1
10
10
Quote templates
1
10
10
Custom fields
5
10
20
Unlimited
Tag cloud
Reports
Lead scoring
Storage per user
1GB
2GB
5GB
5GB
Services
Purchase order
Sales order
Custom workflows
Campaigns
Projects
Assets
Scheduler
Web forms
Service contracts
Price books
FAQ
Tickets
Emails
Phone system integration
Outlook/Gmail plugin
Google Drive integration
Professional reports
Email marketing
Google address lookup
Tooltip manager
SLA policy list
Feedback
Email parser
Sales forecast
Auto/Pre-fill fields
Notifications/Reminders
Predictive fields
Hide empty fields
Integrated IM chat
Google Maps routing
Email conversation view
Realtime field calculations
Custom login page
Export audit logs
Export to Excel
Quick edit (related records)
Custom expenses
Checklist
Box.com integration
Convert quote/invoice/order to project
Custom layouts, forms & views
Time tracker + Billing integration
Individual outgoing mail server
Related record update
Activity reports (summary)
Create asset from PO
Rollup/calculate fields
Label editor
Advanced menu manager
Conditional alerts
Dynamic blocks
Masked fields (predefined formats)
Calendar popup/preview
Enhanced security features
Macros
Payments + Auth.net
Authorize.net integration
Multi user assignment
Drag and drop documents
Quote/Invoice/Order templates
Timesheets
Round robin assignment
Advanced custom fields
Progress bar
Gallery/Slideshow view
Knowledge base
Global search feature
Custom module builder user interface
Summary widgets
Duplicate check & merge
Timeline change log
Conditional layouts
Coloured views
Customised item details on sales orders
QuickBooks integration
Easy item lookup
Custom headers
Convert field blocks into Tab
Enchanced schedular/calendar view
Custom layouts
Kanban view
Activity pop ups
Custom buttons
Related blocks/lists
Advanced comments

no minimum users

Enquire

minimum 2 users

Enquire

minimum 5 user

Enquire

minimum 5 user

Enquire