Are you based in Worksop? We have the IT support for you...
Situated just 8 miles from the centre of Worksop, the dedicated team at Cynetix are here to help you with your IT needs. We are not just an IT support provider, we offer many other IT services such as web design, programming, hosting, CCTV and much more.
We are proud to offer local support from local people, our in-house support team are always more than happy to help, whatever the problem.
Why Outsource Your IT Support?
There are many different reasons why your business may benefit from outsourcing your IT support. Some of which will be unique to your business whilst others are more common, such as:
Reduce staff costs

Free up time to focus on your business

Access to a large skill base

No need to worry about cover for annual leave or illness

Access to the latest technologies

Control ongoing costs and predict IT expenditure

Minimise risk

Increased productivity - problems sorted quickly thanks to our SupportNow tool

Increased efficiency offering variable capacity

Flexibility with support arrangements

Regular customer service reviews

Lower ongoing investment in internal infrastructure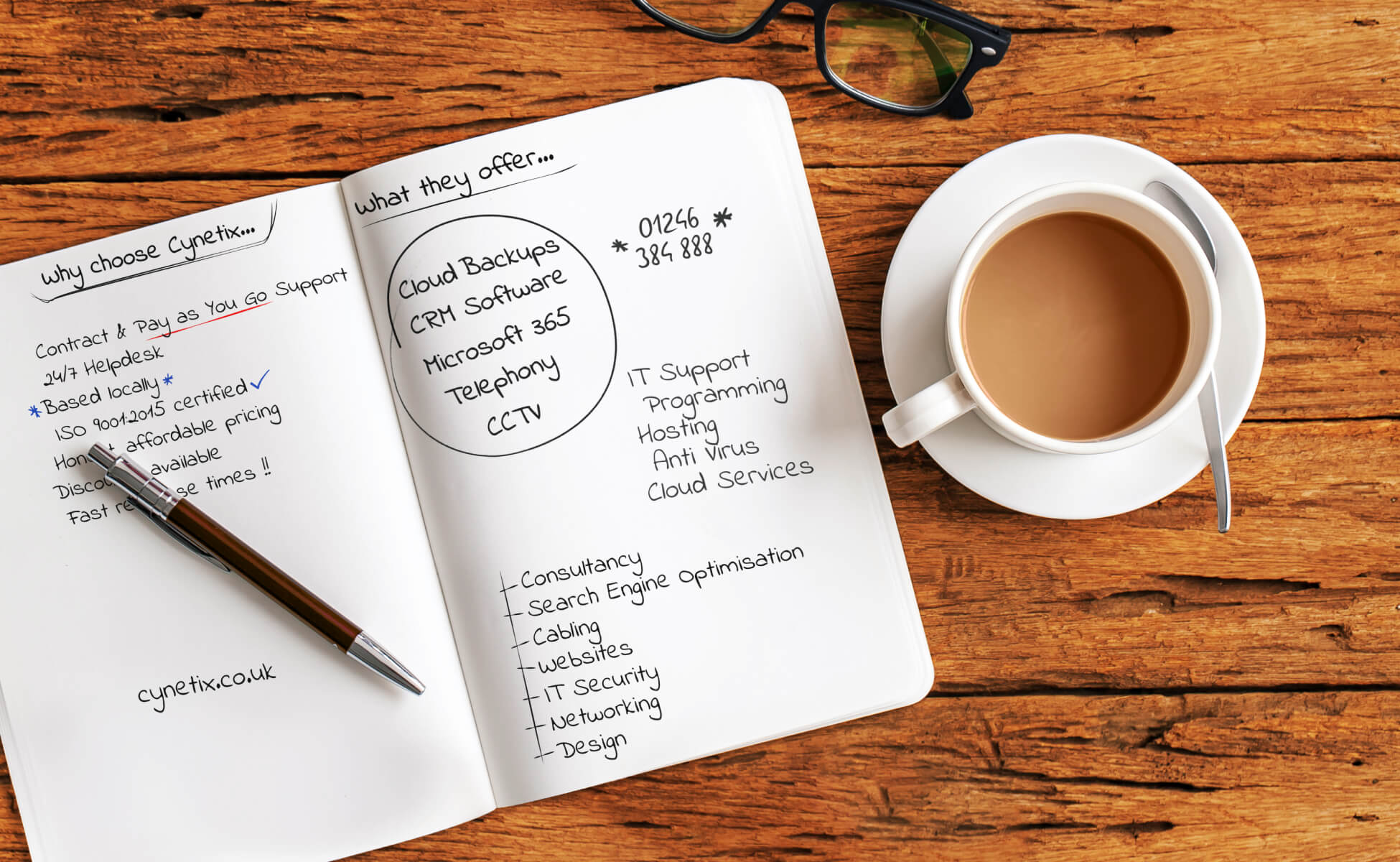 Who Are We?
We are a local company, based in Barlborough, just off M1 junction 30. Established in 1994 we have more than 25 years of experience supplying IT services and products to customers throughout the UK and in over 40 countries. Our qualified team of engineers are here to provide the highest level of support and service whenever and wherever you need it.
What People Say
"I've dealt with Cynetix for many years now, they've been super reliable, really easy to deal with and the service they provide is second to none. I use them for just about everything they do and would highly recommend them."
Nick, S3i Group
"They have supplied and customised our CRM system, making adjustments as and when we require, always happy to help & nothing is too much trouble. We would highly recommend Cynetix."
Bluebird Fine Art

Worksop
Cynetix has been providing IT Support to companies around Worksop since the early 2000s. We have been supplying hardware and software to organisations, but also providing web development and IT Support services.
Our engineers usually provide telephone and remote support, but if required we are only 15 minutes down the A619 if required.
Cynetix also has several staff that come from in, or around, the Worksop area.
More About Worksop
What's better than reading some interesting facts about Worksop? Padding out a page for SEO you say? No, no, it's interesting facts I tell you!
General Facts
Population
41,820 (2011 Census)
Post town and Code
Worksop / S80, S81
Shire
Nottinghamshire
Region
East Midlands
How Old?
Listed as Werchesope in the Doomsday Book 1086
Famous Landmark(s)?
Worksop Priory / Mr Straw's House / Clumber Park
Famous Sons & Daughters?
Lee Westwood / Sarah-Jane Honeywell / Bruce Dickinson
Mean Age
40 (2011 Census)
Female / Male Split
51% / 49% (2011 Census)
Number of Jedi
106 (2011 Census)
Average House Price
£165,847
Internet Facts
Exchange(s)
Worksop (SLWW)
Serves approximately 19,300 residential premises & 950 non-residential premises
Available Broadband
ADSL (inc. Max)
SDSL
Fibre To The Cabinet (FTTC)
Fibre To The Properly (FTTP)
Cable
Local Loop Unbundling Operators
Sky
Talk Talk (Car Phone Warehouse)
Vodafone
Average Download Speed
Standard: 14Mbps / Superfast: 80 Mbps (for S81 0HW)
Average Upload Speed
Standard: 1Mbps / Superfast: 20Mbps (for S81 0HW)
All facts correct* at the time of writing.
*Facts taken from the internet...you may wish to take with a pinch of salt
Check your
broadband availability
and
mobile coverage
on the Ofcom website